Cooling Solutions for Server Racks, Computer Rooms and Data Centres
APC InRow Cooling Solutions
InRow Chilled Water - Close-coupled, chilled water cooling for medium to large data centers up to 70kW
InRow Direct Expansion - Close-coupled, air, water, and glycol cooling for closets, server rooms, and data centers up to 37kW
InRow Pumped Refrigerant - Close-coupled, pumped refrigerant cooling for medium to large data centers up to 27kW
Emerson Liebert Precision Cooling
Liebert CRV - Self-Contained Row-Based Cooling up to 40kW
Liebert Challenger 3000 with Liebert iCOM - Precision Cooling System, 10.5 and 17.5kW
Liebert Mini-Mate2 - Ceiling-Mounted Precision Cooling System, 3.5-28kW
Liebert Datamate Precision Cooling System in a compact package, 5-10.5kW
Rittal LCP Liquid Cooling Package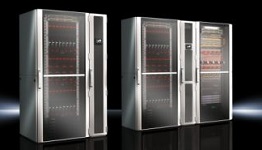 LCP Rack CW - High density, closed-loop chilled water system for scalable cooling up to 60kW
LCP Inline CW - Bayed climate control designed for siting within a bayed enclosure suite for scalable cooling up to 60kW
LCP T3+ CW - Dual feed cooling solution supporting "2n" redundancy in a single device for cooling up to 25kW
LCP Inline DX - Direct Expansion using refrigerant for applications without access to chilled water for cooling up to 10kW
Stulz Datacentre Cooling Solutions
Indirect Free Cooling – With Indirect Free Cooling, a system with a water/glycol mixture is used to cool the data centre.
CyberRow High Density Solution – CyberRow is the innovative air-conditioning system in which the air distribution takes a whole new direction - horizontal.!
CyberCool CSI Indoor Data Chiller – A compact chilled-water generator for direct water cooling with a cooling capacity up to 1000 Kilowatts.
Improve uptime and lower costs with efficient cooling solutions
UPS Solutions has a number of different options when it comes to cooling your data centre. Data centres hold critical IT equipment that needs a cooled environment running 24/7, 365 days a year each with different load and room requirements.
Our cooling systems have a positive impact when it comes to power usage efficiency (PUE), for small to large data centres. We offer redundant and highly efficient cooling solutions, which helps optimise the performance of your IT load.
The data centre cooling solutions that we offer are room level, row level, rack level and containment systems.
Computer Room Air Conditioner (CRAC)
A computer room air conditioning (CRAC) unit is a device that monitors and maintains the temperature, air distribution and humidity in a server room or datacentre. CRAC units are replacing air-conditioning units that were used in the past to cool data centres. According to Industrial Market Trends, mainframes and racks of servers can get as hot as a seven-foot tower of powered toaster ovens, so climate control is an important part of the data centre's infrastructure.
There are a variety of ways that the CRAC units can be situated. One CRAC setup that has been successful is the process of cooling air and having it dispensed through an elevated floor. The air rises through the perforated sections, forming cold aisles. The cold air flows through the racks where it picks up heat before exiting from the rear of the racks. The warm exit air forms hot aisles behind the racks, and the hot air returns to the CRAC intakes, which are positioned above the floor.
In Row Cooling
The InRow cooling product design closely couples the cooling with the IT heat load. This design prevents hot air recirculation, while improving cooling predictability and allowing for a pay as you grow environment. Available with and without humidity control, these products are designed to meet the diverse requirements for small computer rooms to large data centres. The intelligent controls of the InRow products actively adjust fan speed to match the IT heat load to maximize efficiency and address the dynamic demands of today's IT environments.
Available from 5Kw up to 500Kw and in both air cooled and chilled water applications, UPS Solutions can help fit a solution to meet your business needs.


"Just in Time" Cooling


The idea of providing a resource at the right time, in the right amount, is not new – but it is new to computer rooms and data centres. The efficiency benefits of the row-based, localized cooling described here have a well-known parallel in manufacturing.

"Just in time" is a manufacturing philosophy developed by Toyota in the 1950s. It is now a cornerstone of management theory that focuses on the elimination of waste by having just enough of the right parts, at the right time, in the right place – just in time for when they are needed. The idea is to eliminate unnecessary storage and movement of inventory, with the goal on a "lean" and steady flow of materials throughout the manufacturing process.

The IT industry has already begun to reap the benefits of lessons learned from other industries in the area of standardization and modularity. Now with it's primary raw materials – electricity – becoming a scarce and expensive resource, technologies and strategies for conserving it have become the focus of intense industry and user interest.

Cooling, as a major consumer of electricity in the computer room and data centre, is a prime candidate for "use only what you need, where you need it, when you need it – and use it very efficiently.
In Rack Cooling
Data Centre in a Box
A Data Centre facility is used to house computer systems and associated components, such as telecommunications and storage systems. It generally includes redundant or backup power supplies, redundant data communications connections, environmental controls (e.g. air conditioning, fire suppression) and security devices.
Rittals' DC In A Box replicates all of the key data centre capabilities identified above but on a smaller scale.

The Data Centre In A Box mitigates risk and provides compelling CAPEX and OPEX benefits:
• Standardised infrastructure supports simple operation and support for IT staff
• TS-IT rack platform ensures speed of deployment for active and passive equipment
• Demand-oriented climate control ensures efficiency and low PUE
• Compact nature facilitates easy deployment and redeployment
• Fire detection and suppression system can protect the critical infrastructure
• System monitoring enables instant messages to be sent to forewarn of upcoming issues
• Intelligent power rails enable remote power cycling in the event of hardware issues
• Back up power supply provides resilience in the event of poorly conditioned power/total failure
• The DC In A Box enables equipment to be deployed in non-DC environments
Hot Aisle Containment Systems
Today's data centre's are increasing in density. More power and cooling is required to maintain availability to critical data. Maintaining availability and increasing densities whilst keeping the footprint of the data centre under control is the newest challenge facing most IT managers. UPS Solutions can assist in making high density applications possible whilst minimising footprint. Mixing of hot and cold air streams in the data centre lowers availability of IT equipment, as well as reduces the efficiency of the air conditioning unit. Returning the warmest possible air to In-Row air conditioners increases the efficiency and capacity of the system. A hot aisle containment system ensures proper air distribution by completely separating supply and return air paths. Hot Aisle Containment configurations trap the hot air in the hot aisle at the rear of the racks forcing it to be drawn back in to the hot air return of the Computer Room Air Conditioning units (CRAC's). This means that the hot air cannot escape out into the cold aisle and mix with the cold air that the CRAC's are producing.
Hot-aisle containment for high-density configurations
Hot air containment eliminates hot spots by preventing hot air recirculation into sensitive IT equipment
Scalable densities allow for higher density cooling to be achieved by integrating the Hot-aisle Containment System with In-Row architecture
Scalable design allows for quick deployment of high density clusters and addresses needs and future expansion with pay-as-you-grow architecture.